Elkhart Charter Buses: 14 to 56 Passenger Buses, Vans, and Trolleys
a
56 & 47 Passenger Coaches are equipped with…
· VCR/ DVD Equipped with numerous monitors
· Climate Control Interiors & Restroom equipped
· Public Address System and Cell phones
· AM/FM Stereo with Cassette and CD decks
· Reclining Seats, Armrests, and Footrests
· Overhead Baggage Compartments
· Professional Uniformed Drivers
· Window Shades/ Tinted Windows or both
· Spacious Storage Compartments
· Wide Body motorcoaches for extra room
24 passenger Trolley Coaches are equipped with…
· Fully enclosed San Francisco style Interiors
· Climate Control Interior with Oak Paneling
· Rear Politician Platform
· Brass Rails & Beautiful Oak Benches
· Wheelchair Lift
· Interior Lights
· Professional Uniformed Drivers with a Cell Phone
· Large Panoramic Windows
· Authentic Trolley Bell & 110-Volt Outlets
· Sound System with CD Player & MP3 input
28 Passenger Coach Amenities                 16 Passenger Coach Amenities
· Climate Control Interiors
· Reclining Seats and Armrests
· Overhead Baggage Compartments
· Individual Reading Lamps
· and more…
· Climate Control Interiors
· Reclining Seats, Armrests, & Ind. Reading Lamps
· Overhead Baggage Compartments
· VCR/ DVD Equipped with a monitor
· and more…
B&W Charters has grown from a single motorcoach operation to today's sizeable fleet of new or deluxe 14 to 56 passenger buses, vans, and trolleys.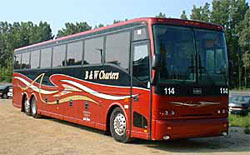 Elkhart is located in Elkhart County. Also known as the RV Capital of the World, this community boasts a variety of activities to take in. Businesses that call this area home include Four Winds, Skyline, Duchman, and Gulf Stream. Be sure to tour the downtown district on your B&W Charters Elkhart bus rental.
This city is also home to the Interurban Trolley regional public bus service. Elkhart has a strong educational background. Colleges here include Ivy Tech and Bethel College.
Elkhart also has the ELCO Performing Arts Center, a must see for your group on a B&W Charters Elkhart charter bus. Make sure to pick the right time of year to visit so your group can take in some of the annual events here. These include The Elkhart Jazz Festival, Rhapsody in Green, and the Elkhart Air Show.
…courteous, safe, helpful, timely
With all of these activities you'll be sure to come back on your B&W Charters Elkhart Indiana motorcoach.