If your school, church, or no-profit group is getting ready to hit the road, then look to B & W Charters for reliable transportation. B & W Charters is also a leading college and university charter motorcoach company. Whether the big game is coming up and your an Athletic Director, coach, player, or just a fan, B & W can get you there in style and comfort. Our modern fleet of motorcoaches can take you anywhere across the United States and Canada. Therefore your team can get the same quality transportation in their home town or on the road.
We take the safety of your group seriously, thats why we use one of the nation's leading driver safety programs. We also keep your mind at ease because we are fully insured and carry $5,000,000 of combined single limit liability coverage. Any reputable carrier should carry this amount of liability insurance, an industry standard. For a copy of our liability insurance certificate please contact our office.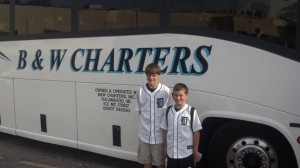 We offer transportation solutions for athletic team transfers, band trips, church picnics, field trips, school charter trips, and youth group events. B & W Charters offers your group a fleet of modern vehicles to choose from. We keep our fleet in top-operating order through our high maintenance standards. No matter where your group travels across the United States, B & W Charters has you covered.
56 & 47 Passenger Coaches are equipped with…
· DVD Equipped with numerous monitors
· Climate Control Interiors & Restroom equipped
· Public Address System, AM/FM Stereo
· Wifi, CD, Some w/ #110 &/or USB charging
· Reclining Seats, Armrests, and Footrests
· Overhead Baggage Compartments
· Professional Uniformed Drivers
· Window Shades/ Tinted Windows or both
· Spacious Storage Compartments
· Wide Body motorcoaches for extra room
24 passenger Trolley Coaches are equipped with…
· Fully enclosed San Francisco style Interiors
· Climate Control Interior with Oak Paneling
· Rear Politician Platform
· Brass Rails & Beautiful Oak Benches
· Wheelchair Lift
· Interior Lights
· Professional Uniformed Drivers with a Cell Phone
· Large Panoramic Windows
· Authentic Trolley Bell & 110-Volt Outlets
· BlueTooth, MP3 & USB Input
26-30 Passenger Coach Amenities                  16 Passenger Coach Amenities
· Climate Control Interiors
· Reclining Seats and Armrests
· Wifi, CD, DVD, BlueTooth, & USB Charging
· Individual Reading Lamps
· and more…
· Climate Control Interiors
· Reclining Seats, Armrests, & Ind. Reading Lamps
· BlueTooth, MP3 & USB Input
· VCR/ DVD Equipped with a monitor
· and more…
B&W Charters has grown from a single motorcoach operation to today's sizeable fleet of new and deluxe 14 to 56 passenger motorcoaches, vans, & trolleys.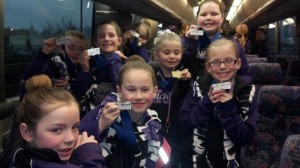 However, in recent years B&W has added a Tour Department and is now providing a variety of professionally developed one and multiple-day Tours and Excursion packages. Additionally, B&W provides a significant number of shuttles, airport transfers, and convention transportation on a contractual basis.
Small group transports also represent a growing area of customer demand. Today customers and trips continue to receive personalized attention and focus, consistent with company history and founding principles.
Our Preparation:
From the moment of your first contact with a B&W Charter/Tour representative until your safe return from your travel destination our goal is one of flawless execution. Our aim is to be courteous, safe, helpful, timely, and a partner in assuring and enhancing your travel experience.
…courteous, safe, helpful, timely
Trip planning, logistics, and dispatch are equipped with first-rate facilities and professional charter/tour tools inclusive of modern computer and technological enhancements.