We at B & W Charters know that planning a special event is stressful enough, without having the added worry of choosing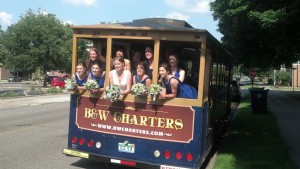 a ground transportation provider. Let B & W Charters take the pressure off of you with our array of services tailored to the special event & meeting markets. Whether you need to transport 40 or 4000, B & W is the one you can count on.
B & W Charters has become the go to choice for Brides, Grooms, and Wedding Coordinators across West Michigan and Northern Indiana. We offer mini coaches, full size coaches, vans, and trolley coaches.  Our trolley coaches have become West Michigan's newest hit for many of our brides who want a unique transportation option. They provide a nostalgic charm with all the convenience of modern vehicles. Contact a B & W Charters representative to learn more
and let us help make your special day the envy of all of your friends.
We offer customized convention shuttle, airport transfer services, transportation to out of town meetings, and much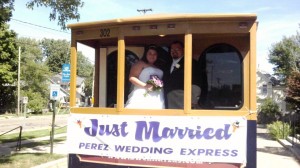 more. We're big on making sure no detail gets overlooks. That's why meeting planners & special event coordinators rely on B & W Charters for dependable and punctual service. Our operators are courteous, experienced, well trained professionals. B & W's fleet of motorcoaches are clean and meticulously maintained.
B&W Charters has grown from a single motorcoach operation to today's sizeable fleet of 14 to 56 passenger motorcoaches, vans, & trolleys.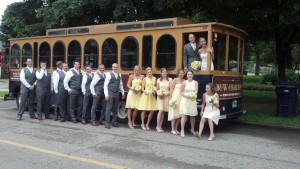 We know that planning transportation for a large group can be challenging. But chartering a bus with B & W Charters makes it easy. We offer tools to help you plan a group trip such as downloadable wedding schedule template. And when you're ready to book your trip, you can either use our online quote form or speak directly with an agent.
So you are getting married. Now comes all the planning; flowers, food, reception, honeymoon, party bus, and location just to name a few. A wedding is always an exciting time, but getting the right vehicle can make your special day just a bit more memorable.
Weddings can bring friends and family from close at home and around the world. Transportation can be an issue. One of the best ways to compliment your special day is a wedding bus. A B&W Charters vehicle can be a fun way to get everyone from where they are to where they need to be.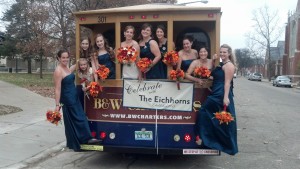 We are here to make your wedding dreams come true starting the with perfect wedding transpaortaion in a Trolley, Mini Coach, Luxury Coach, to get you there on-time and in style!
56 & 47 Passenger Coaches are equipped with…
· DVD Equipped with numerous monitors
· Climate Control Interiors & Restroom equipped
· Public Address System, AM/FM Stereo
· Wifi, CD, Some w/ #110 &/or USB charging
· Reclining Seats, Armrests, and Footrests
· Overhead Baggage Compartments
· Professional Uniformed Drivers
· Window Shades/ Tinted Windows or both
· Spacious Storage Compartments
· Wide Body motorcoaches for extra room
24 passenger Trolley Coaches are equipped with…
· Fully enclosed San Francisco style Interiors
· Climate Control Interior with Oak Paneling
· Rear Politician Platform
· Brass Rails & Beautiful Oak Benches
· Wheelchair Lift
· Interior Lights
· Professional Uniformed Drivers with a Cell Phone
· Large Panoramic Windows
· Authentic Trolley Bell & 110-Volt Outlets
· BlueTooth, MP3 & USB Input
26-30 Passenger Coach Amenities                  16 Passenger Coach Amenities
· Climate Control Interiors
· Reclining Seats and Armrests
· Wifi, CD, DVD, BlueTooth, & USB Charging
· Individual Reading Lamps
· and more…
· Climate Control Interiors
· Reclining Seats, Armrests, & Ind. Reading Lamps
· Overhead Baggage Compartments
· BlueTooth, MP3 & USB Input
· and more…