Battle Creek Charter Buses: 14 to 56 Passenger Buses, Vans, & Trolleys
a
56 & 47 Passenger Coaches are equipped with…
· VCR/ DVD Equipped with numerous monitors
· Climate Control Interiors & Restroom equipped
· Public Address System and Cell phones
· AM/FM Stereo with Cassette and CD decks
· Reclining Seats, Armrests, and Footrests
· Overhead Baggage Compartments
· Professional Uniformed Drivers
· Window Shades/ Tinted Windows or both
· Spacious Storage Compartments
· Wide Body motorcoaches for extra room
24 passenger Trolley Coaches are equipped with…
· Fully enclosed San Francisco style Interiors
· Climate Control Interior with Oak Paneling
· Rear Politician Platform
· Brass Rails & Beautiful Oak Benches
· Wheelchair Lift
· Interior Lights
· Professional Uniformed Drivers with a Cell Phone
· Large Panoramic Windows
· Authentic Trolley Bell & 110-Volt Outlets
· Sound System with CD Player & MP3 input
28 Passenger Coach Amenities                 16 Passenger Coach Amenities
· Climate Control Interiors
· Reclining Seats and Armrests
· Overhead Baggage Compartments
· Individual Reading Lamps
· and more…
· Climate Control Interiors
· Reclining Seats, Armrests, & Ind. Reading Lamps
· Overhead Baggage Compartments
· VCR/ DVD Equipped with a monitor
· and more…
B&W Charters has grown from a single motorcoach operation to today's sizeable fleet of new or deluxe 14 to 56 passenger buses, vans, and trolleys.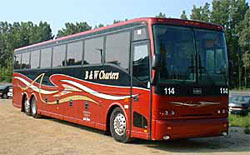 Battle Creek, known as the "Cereal City", is the world headquarters of Kellogg Company, founded by Will Keith Kellogg in 1906. His brother, Dr. John Harvey Kellogg, invented cold breakfast cereal as an alternative to the traditional meat-based breakfast. This city is full interesting sites to visit on your B&W Charters Battle Creek charter bus. Places like Leila Arboretum and Binder Park Zoo are a must see. This community is also home to The Battle Creek Symphony Orchestra, Michigan's oldest symphony.
Its festivals include; The World's Longest Breakfast Table; The Battle Creek Field of Flight Entertainment Festival; and The International Festival of Lights. All of these events are fun for the entire family on a B&W Charters Battle Creek bus rental. Battle Creek also has a strong military back ground. It is home to The Michigan Air National Guard's 110th Fighter Wing; Fort Custer Army National Guard Base; and Hart-Dole-Inouye Federal Center.
…courteous, safe, helpful, timely
In addition to Kellogg Battle Creek is also home to Ralcorp, Denso, Kellogg Community College, and FireKeepers Casino.  B & W Charters can provide a host of travel options for corporate clients.  Our Battle Creek charter bus company is your one stop for corporate ground transportation. Be sure to bring your history book when you travel to this community on your B&W Charters Battle Creek Michigan motorcoach.
So whether you need charter bus rental for an airport transfer, local shuttling, bus tour, company outting, wedding, birthday party, bachelor/bachelorette party