Albion Michigan Charter Buses: 14 to 56 Passenger Buses, Vans, & Trolleys
a
56 & 47 Passenger Coaches are equipped with…
· VCR/ DVD Equipped with numerous monitors
· Climate Control Interiors & Restroom equipped
· Public Address System and Cell phones
· AM/FM Stereo with Cassette and CD decks
· Reclining Seats, Armrests, and Footrests
· Overhead Baggage Compartments
· Professional Uniformed Drivers
· Window Shades/ Tinted Windows or both
· Spacious Storage Compartments
· Wide Body motorcoaches for extra room
24 passenger Trolley Coaches are equipped with…
· Fully enclosed San Francisco style Interiors
· Climate Control Interior with Oak Paneling
· Rear Politician Platform
· Brass Rails & Beautiful Oak Benches
· Wheelchair Lift
· Interior Lights
· Professional Uniformed Drivers with a Cell Phone
· Large Panoramic Windows
· Authentic Trolley Bell & 110-Volt Outlets
· Sound System with CD Player & MP3 input
28 Passenger Coach Amenities                   16 Passenger Coach Amenities
·  Climate Control Interiors
· Reclining Seats and Armrests
· Overhead Baggage Compartments
· Individual Reading Lamps
· and more…
· Climate Control Interiors
· Reclining Seats, Armrests, & Ind. Reading Lamps
· Overhead Baggage Compartments
· VCR/ DVD Equipped with a monitor
· and more…
B&W Charters has grown from a single motorcoach operation to today's sizeable fleet of new or deluxe 14 to 56 passenger buses, vans, and trolleys.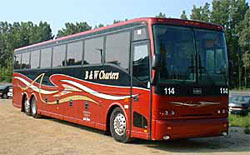 Albion, Michigan is where you'll discover a charming small town on the edge of Calhoun County. Its a great place to take a B&W Charters Albion charter bus. Home of Festival of the Forks, because it is situated at the confluence of the north and south branches of the Kalamazoo River.
If you travel on a B&W Charters Albion bus rental downtown you'll discover the charming and beautiful Albion Historic Walkway. Albion is also home to Gardner House Museum, Albion College, Holy Ascension Orthodox Church, Brueckner Museum, Victorian Gladsome Cottage and Starr Commonwealth.
With a variety of land marks to see, you'll want to be sure to bring along comfortable walking shoes as you exit your B&W Charters Albion Michigan motorcoach.
So whether you need charter bus rental for an airport transfer, local shuttling, bus tour, company outting, wedding, birthday party, bachelor/bachelorette party
…courteous, safe, helpful, timely
Trip planning, logistics, and dispatch are equipped with first-rate facilities and professional charter/tour tools inclusive of modern computer and technological enhancements.